Sweet : A big treat goes on show in Bristol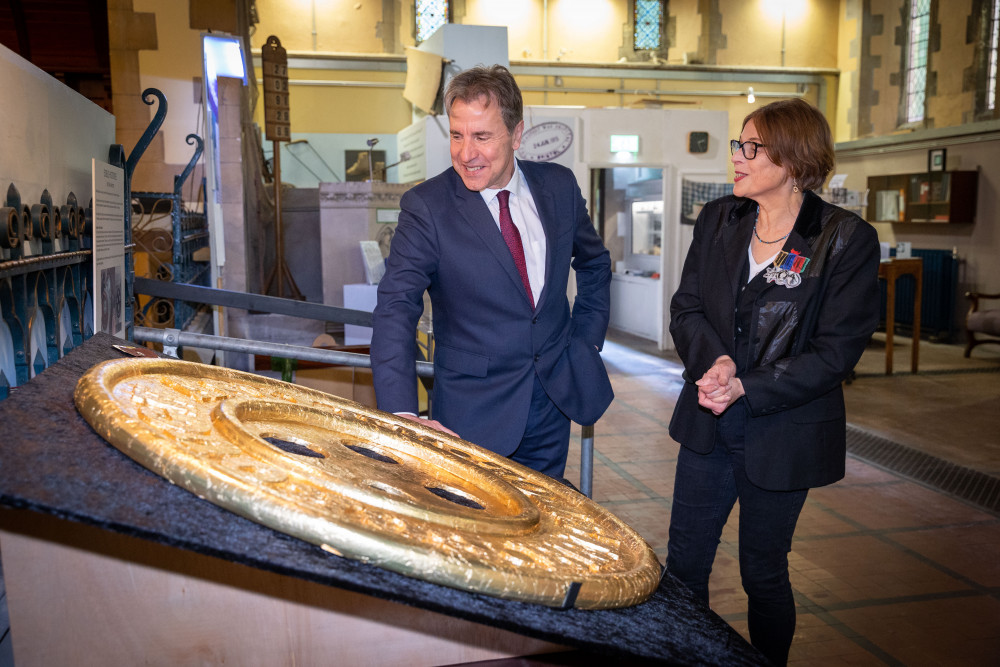 The button weighs in at 18kg - the equivalent of three bowling balls, and 600 times the size of your standard pack of chocolate
Chocolate button lovers need look no further than Glenside Hospital Museum to pay homage to their favourite sweet treat, with a gigantic one going on display there.
Starting this week, Bristolians can check out the mouth-watering edible chocolate sculpture wrapped in gold foil – believed to be the largest chocolate button in history.
This decadently oversized confection weighs in at 18kg - the equivalent of three bowling balls, and 600 times the size of your standard pack of chocolate buttons! Meanwhile, it's good news for the chocoholics among us, as chocolate sweet treats will be available to the first 60 lucky people to step through the museum's doors mentioning 'Edible Histories' to see the choc creation.
It is all part of the sweet arts project celebrating Bristol's inspiring history and culture by local artist Luke Jerram – and backed by Metro Mayor Dan Norris's West of England Mayoral Combined Authority.
Glenside is one of five local museums and other local attractions that have signed up to 'Edible Histories', each donating one object that tells the story of this brilliant city. 1-2m sized replicas are then being made in fairtrade chocolate by the award-winning chocolatier Zara's Chocolates in Southville - wrapped in gold foil and displayed with the original pieces within these much-loved attractions.
Metro Mayor Dan Norris said: "'It's amazing to see this ginormous chocolate button – the biggest ever - in all its glory. From day one, I've been as interested in the story behind these chocolate creations. There's a fascinating and often surprising history of mental health care in Bristol – which this chocolate sculpture highlights. This is a brilliant project celebrating the inspiring stories, and culture, that defines this extraordinary city - told through everyone's favourite sweet substance."
The actual button from the Museum's collection is 100 times smaller. It represents the thousands of patients who received care at Glenside. When it was built in 1861, it was a state-of-the-art hospital for people with mental ill health. Back then, these buttons with 'Bristol' printed on them would have been stitched onto patients' lapels to provide them with suitable clothing to work within the hospital. The choc button therefore highlights the layers of history of mental health care in Bristol, and how the city was way ahead of its time in how it treated people with mental health issues - with compassion and dignity.
Artist Luke Jerram explains: "It's a fascinating object from a really interesting hidden gem of a museum in our city. I'd urge people to go to the Glenside Hospital Museum and explore all the fascinating scientific and medical artifacts they have on display there."
The mouth-watering 1m diameter creation took over 100 hours for the brilliant Zara's Chocolates team in North Street to make.
Stella Man from Glenside Hospital Museum added: "The button is one of the smallest in our collection, but visitors will be delighted to find a church full of objects and stories about hospital care."
The "biggest chocolate button ever" is now on display at Glenside on Wednesday mornings 10am-1pm and all day Saturday 10am-4pm, £5.00 entry, children go free. In October, the button, along with the other four objects will be brought together for the first time as part of a free public event in Bristol city centre whereby they will be broken up and distributed to the general public and local foodbanks. Details about this public event will be announced later this year.