TV host and wildlife expert Chris Packham has been named as the new president of the RSPCA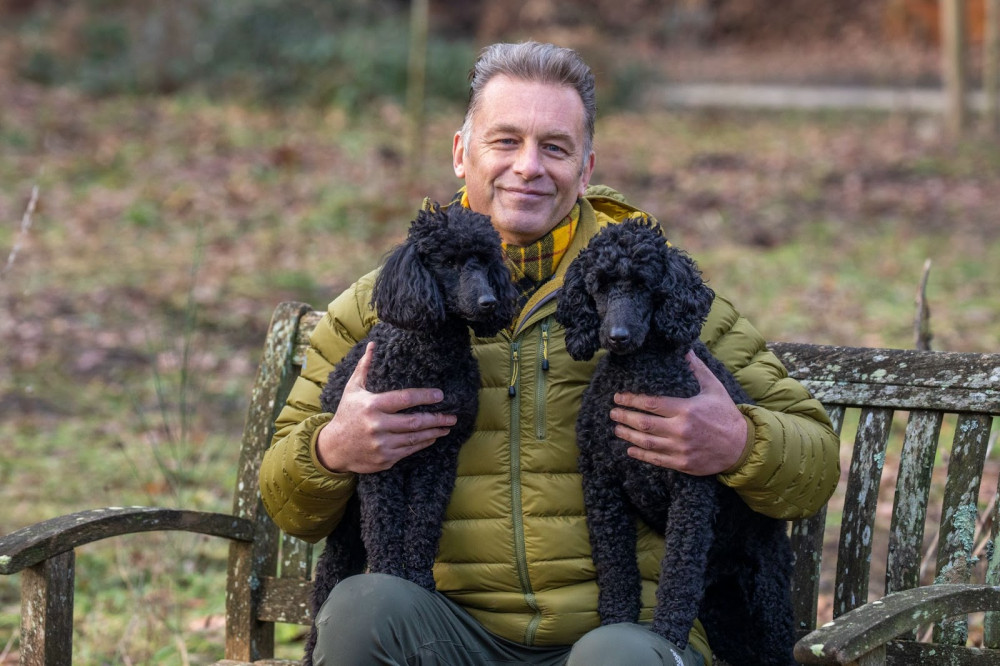 Chris Packham: "We're at a critical time for all animals" pictured with his dogs Sid and Nancy
TV naturalist is announced as the new president for the RSPCA and urges everyone to take steps to help animals
TV host and wildlife expert Chris Packham has been named as the new president of the RSPCA and has described how the UK is at a critical time for animals.
The renowned Springwatch presenter made the announcement during a speech at an event at the RHS Chelsea Flower Show on The RSPCA Garden last night (Tuesday 23 May).
Chris, 62, has been a vice president at the charity for almost 15 years and has pledged to help create a better world for animals as he steps up into the prestigious President role.
Chris said: "I am immensely proud to take on the role of president of the RSPCA - the world's oldest and largest animal charity. This honour comes at a historic moment as the charity counts down to its 200th birthday next year in 2024. I see this time as one of the most critical times for animals in the last 200 years.
"We are at a pivotal moment for animal welfare, and the decisions we make will have huge repercussions for animals all over the world. Everywhere we look there are human issues that are affecting animals and it's imperative that we make change, for the better.
"Every decision we make, on every scale, affects the world around us. Letting sewage pour into our rivers, where we decide to build our houses, decisions we make on how we power the country - all of these things threaten our wildlife
"The Cost of Living crisis is already having far reaching and devastating effects on families and it is in turn impacting our pets too, with increases in abandonments and neglect, people struggling to pay for vet care and even to feed their animals."
Speaking from The RSPCA Garden at RHS Chelsea Flower Show Chris added: "We're living through uncertain times with seismic shocks that have undermined our own sense of security and wellbeing - a pandemic, a cost of living crisis, a war in Europe, the repercussions of all of which are still being felt and will be for years to come. During times of social and economic stability, that is when animals can suffer and when charities like the RSPCA are needed more than ever.
"We've seen the pandemic take its toll, with more animals coming into RSPCA care and rehoming slowing as cost of living pressures bite. There has been a 25% rise in abandoned animals year on year as people are struggling to look after their pets and incidents of neglect have increased by 13%.
"The other casualty of these shocks is political will. When Governments are under pressure to support people, animal welfare can take a back seat for politicians and policy makers, but this would be a huge mistake. Animal welfare is central to many of the big challenges facing governments and society, not just here but around the world, now and in the future. The time to act is now and we all need to take steps to help the animals around us."
Welcoming in Packham as the new president, RSPCA chief executive Chris Sherwood said: "We are really excited to welcome Chris Packham as president of the RSPCA. Chris is much loved and a well respected voice for all animals who speaks to a wide range of society. Like us, Chris is ambitious for animals and we have a huge amount we want to achieve by 2030 and beyond, and his passion and expertise will help us get there."
He added: "He has been a vice president at the RSPCA for almost 15 years now and during his time in this official role he has supported the RSPCA with countless projects spanning across all our work. Stepping up into the presidential role is a natural next step and we are looking forward to working with him closer to create a better world for all animals."