Urgent warnings about Asian Hornets : Beekeepers say we would prefer a thousand mistaken identifications than to miss one of these vicious predators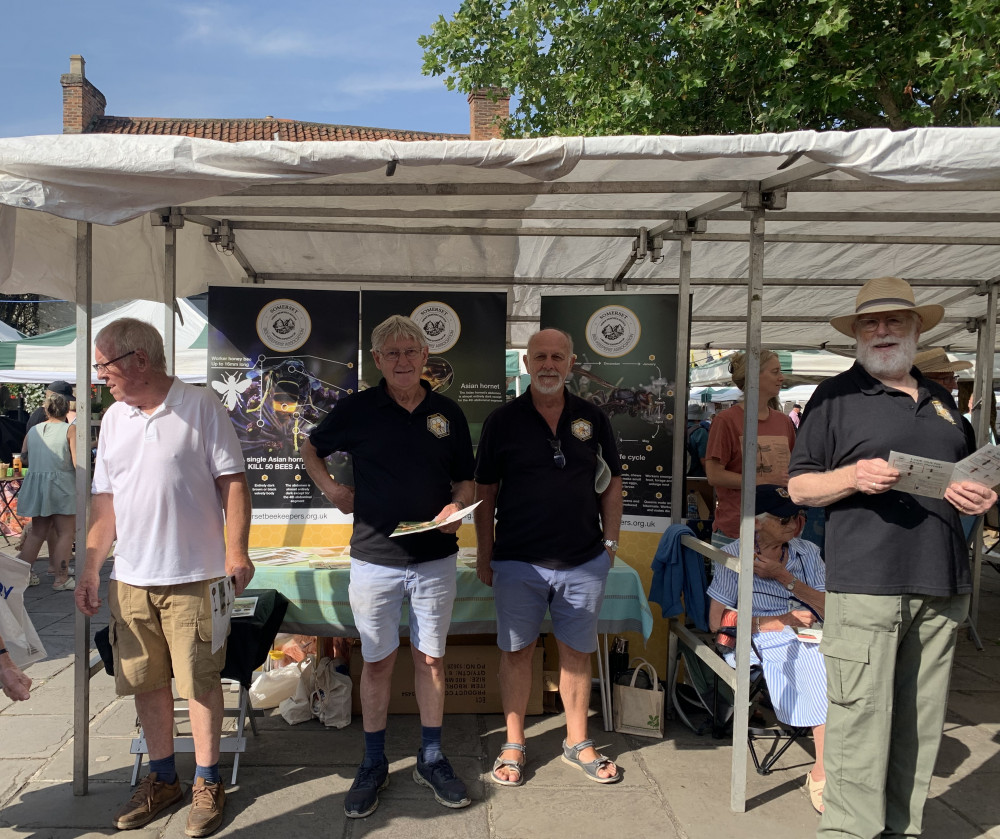 Nick Potts Chair. Central Somerset Beekeepers Association (second from right) spreading the messages in Wells
Local beekeepers, and the public, are being urged to report sightings of the Asian Hornet, an invader which can destroy colonies of bees and are ferocious in defending their nests.
The race is on against the seasons as the queen hornets are produced in the autumn and already this year, according to the local bee keeping association, there have been 45 confirmed nests in Southern England.
This is a large increase. In 2022, when only two Asian Hornets were seen, and in 2021, there were again only two reported sightings.
According to The Guardian newspaper the vast majority of this year's sighting were in Kent; understandable since the Asian Hornet is already well established, and causing massive bee hive loss, in France.
The Central Somerset Beekeeper Association has been hosting stalls and urging the public to get reporting any sightings of the hornet, even if they are wrong. Keepers say they would rather have a thousand misreported than one miss of these damaging pests who also eat other pollinators.
Nick Potts the chair of Association told us : " The Asian Hornet (AH) is an invasive species which has covered most of southern Europe and is now here on mainland UK. It destroys hives, as these are easy targets, but it also eats other flying pollinators. At the time of writing there are 45 confirmed nests in southern England but others may be unfound as yet. Each nest can produce 10 viable Queens and they can fly up to 80 kilometres, subsequently producing 10 viable Queens year on year.
" Jersey is suffering and losing hives despite fighting what has become a battle. In mainland UK nearly all the nests have been found by tracking hornets which have been reported by members of the public. Our aim with our events is to ask people to download the Asian Hornet Watch App, which is totally free, and photograph any flying insect with yellow legs, these are AH and should not be confused with European Hornets which are much bigger.
" On Saturday in Wells we probably spoke to over 500 people and the aim, as I said is to get everyone and anyone looking for the AH and reporting it. Pictures taken on the app which aren't AH are not a problem as we would rather have 1,000 wrong ones to find one Asian Hornet."