Bath Motor Club helps save lives with £1k donation to Great Western Air Ambulance Charity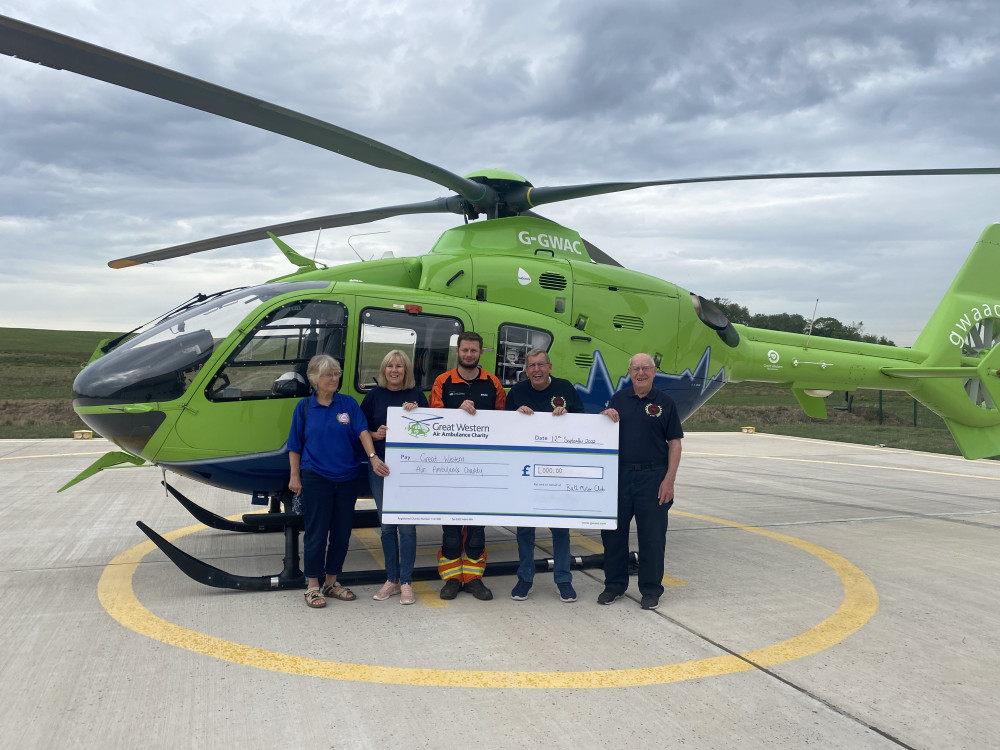 Photo L to R: Cath Dyer, Diane Whittock, Mark Kinsella (GWAAC Specialist Paramedic in Critical Care), Dave Whittock (Chairman), Keith Wilson.
Great Western Air Ambulance Charity (GWAAC) met with loyal supporters, Bath Motor Club, last week for a cheque presentation of some crucial funds.
The Club raised £1,000 from their latest Aquae Sulis tour which will help fund half the cost of a potentially lifesaving mission, by road or by air, across Bath, North East Somerset and beyond.
GWAAC has been called to 68 medical and trauma emergencies in Bath & North East Somerset already this year and essential funds such as these ensure that Bath's air ambulance can keep flying.
Philippa Walker, Supporter Engagement Coordinator at GWAAC, said: "Everyone here at GWAAC is so grateful to Bath Motor Club for continuing to raise funds for us, year after year. I know that we remain a charity close to the Club's heart and they are certainly a very treasured part of the GWAAC family. We simply couldn't provide the level of lifesaving service that we do without the support of community pillars in Bath such as Keith, Dave and their team."
Chairman Dave Whittock commented: "We try to donate a couple of times each year to our named charity, the Great Western Air Ambulance Charity. It's very important we support this extremely important charity because every day of the year they save lives. We take every opportunity to raise money for them and we will continue to do so."