Midsomer Norton Town Council - Children's Christmas Party 2022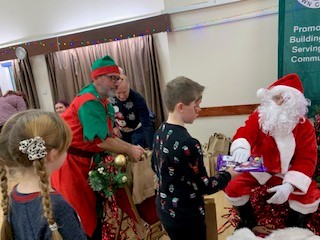 A familiar face for sure !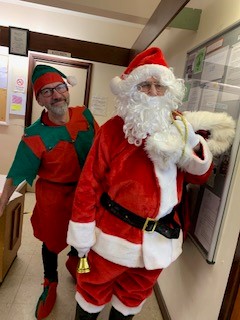 The third FREE Midsomer Norton Town Council Children's Christmas Party took place on Sunday 4th December 2022.
The event was free to all children who are resident in Midsomer Norton, aged between 4 and 11 years old. The initial batch of tickets were snapped up in a couple of hours, leading the Town Council to increase the numbers to 80, which also then went very quickly!
Council staff arrived early at the Somer Centre, to set up the halls and box up all the food for lunch. Food and drink for the children this year was provided by local business – Pure Taste. With party goers arriving from 12, the event soon got underway with entertainment in the form of the much loved Rocky's Magic Parties. Festive face painting was provided by Hayley's Braids and Faces and the festive arts and crafts activities tables were supported by Youth Connect South West. The Town Council would like to take the opportunity to thank all of these local businesses.
No Children's Christmas Party would be complete without a visit from Father Christmas himself, and to the delight of many, he made an appearance at the end of the party, along with one of his trusted elves! Father Christmas gave each child a chocolate selection box and a reindeer pack, to take home. The reindeer packs were a joint project with the local Men's Shed, who we would like to thank for their time and support. If you have any photos of your reindeer creations – we would love to see them! We would also like to thank Midsomer Norton and Paulton Tesco, for their very kind donation of 20 selection boxes and packets of pens and pencils.
Thanks also to those that came and made the event a success – we do hope all the children enjoyed themselves! If you would like to get in touch please telephone: 01761 418701, or email: [email protected].